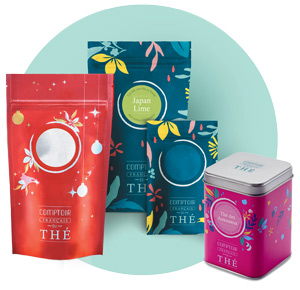 Let your
delicacy
TRAVEL
For more than 40 years, Le Comptoir Français du Thé has established itself as a tea specialist serving gourmet shops.
Its ambition is to enable shopkeepers to offer teas that are synonymous with travel and delicacies while remaining accessible. This virtuous partnership with the retail sector is based on the strategy of Comptoir Français du Thé, which consists of not opening its own shops.
A
KNOW-HOW

to

serve

the senses

Today, Comptoir Français du Thé offers more than 200 products from the best origins – Sri Lanka, India, China, Japan, Korea, etc. – in bulk or in tins.
The teams work hard to create the most elegant flavours from teas, infusions or rooibos, assembled and packaged in Alsace in its workshops.
Eager to offer the best combinations and harmonies of taste, Le Comptoir Français du Thé also pays particular attention to the visual and olfactory presentation of its teas and infusions.
The
CREATIVITY

of Comptoir Français du thé

Le Comptoir Français du Thé offers a range of more than 200 references, all of which are a harmonious combination of tastes and flavours that invite you to travel. For example, behind the recipe of the green tea "Coco Câline", which undeniably refers to the Tropics, is the association of different touches of natural aromas creating the right balance in the blend of pineapple and coconut.
Find our teas
IN SHOPS
The brand is a partner of choice for shops wishing to offer tea. We help the shopkeeper to present its ranges in a clear manner, in a universe that invites travel and taste discovery. We offer sales aids for a long-lasting collaboration. The wide range of organic and conventional teas and infusions is complemented by a sophisticated selection of accessories (flasks, mugs, tableware, etc.). The ambition of Comptoir Français du Thé is to allow consumers to discover quality teas and infusions while remaining accessible. The tea leaves, decorations and flavours that make up the recipes are all selected for their high quality.
Our tea and infusion recipes are designed and packaged in France near Strasbourg in a certified workshop.
The leaves and other ingredients used are selected for their high quality.